Downloadable Song List
Fill out a song list and send before your event to insure we play your favourite tracks.

Song lists are a good aid to insuring you get the music you want.
Select a few of your favourite tracks before your event and the DJ will try to include
them at some point.
If required the entire track listing can be chosen for your event although this isn't
recommended as in most cases the DJ will know what songs will work best when.

Please make sure you fill out the details at the top of each song list so I can match
up your event to your song list.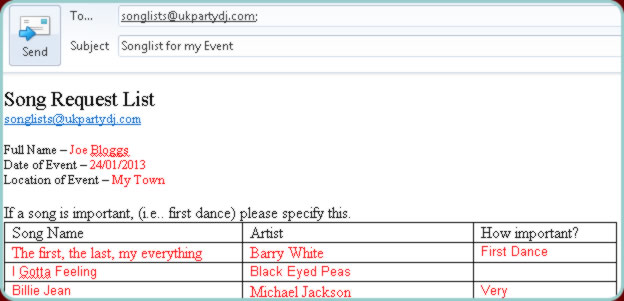 Example of ideal party song list with name, date & location completed

Need some inspiration?
why not have a look at our
UK Single chart number ones or visit the UK Top 100 Music chart


There are two different version of the song list to download.
Try downloading Disco Song Request List first.
If that doesn't work try this one Party Song Request List.
You will have to edit this version and then attach it in an email to the email
address which can be found on the track request list.
If both these do not work let me know via the contact page.

Party DJ Songlist Mobile Disco tracklisting request song list playlist play list track