Sample DJ Contract

Why a mobile disco dj contract is important and a sample of a contract you can expect when making a booking.


For every event booked through us a UK Party DJ contract is drawn up.

The DJ contract is a guarantee that we will provide the service that is specified

and you will pay the fee that is specified. Either a signature on your DJ contract or a deposit made through the Make a Payment page is required to secure any booking.



Here is a sample dj contract (booking agreement) which you can expect with every booking.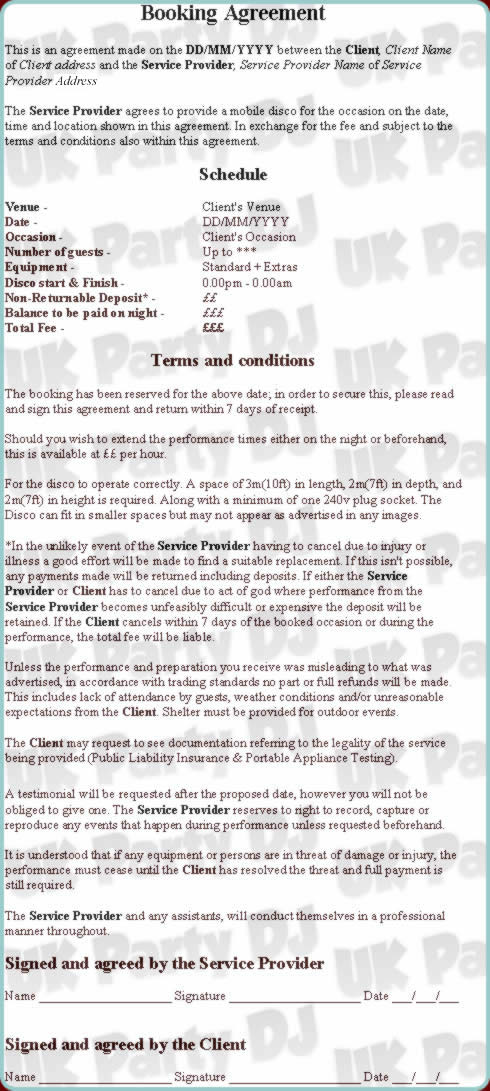 Sample DJ contract for Mobile disco & Party DJ.

The same details for the mobile party dj contract (booking agreement)
are below in plain text.

Booking Agreement

This is an agreement made on the DD/MM/YYYY between the Client, Client Name of Client address and the Service Provider, Service Provider Name of Service Provider Address.

The Service Provider agrees to provide a mobile disco for the occasion on the date, time and location shown in this agreement. In exchange for the fee and subject to the terms and conditions also within this agreement.

Schedule

Venue - Client's Venue
Date - DD/MM/YYYY
Occasion - Client's Occasion
Number of guests - Up to ***
Equipment - Standard + Extras
Disco start & Finish - 0.00pm - 0.00am
Non-Returnable Deposit* - ££
Balance to be paid on night - £££
Total Fee - £££

Terms and conditions

The booking has been reserved for the above date; in order to secure this, please read and sign this agreement and return within 7 days of receipt.

Should you wish to extend the performance times either on the night or beforehand, this is available at ££ per hour.

For the disco to operate correctly. A space of 3m(10ft) in length, 2m(7ft) in depth, and 2m(7ft) in height is required. Along with a minimum of one 240v plug socket. The Disco can fit in smaller spaces but may not appear as advertised in any images.

*In the unlikely event of the Service Provider having to cancel due to injury or illness a good effort will be made to find a suitable replacement. If this isn't possible, any payments made will be returned including deposits. If either the Service Provider or Client has to cancel due to act of god where performance from the Service Provider becomes unfeasibly difficult or expensive the deposit will be retained. If the Client cancels within 7 days of the booked occasion or during the performance, the total fee will be liable.

Unless the performance and preparation you receive was misleading to what was advertised, in accordance with trading standards no part or full refunds will be made. This includes lack of attendance by guests, weather conditions and/or unreasonable expectations from the Client. Shelter must be provided for outdoor events.

The Client may request to see documentation referring to the legality of the service being provided (Public Liability Insurance & Portable Appliance Testing).

A testimonial will be requested after the proposed date, however you will not be obliged to give one. The Service Provider reserves to right to record, capture or reproduce any events that happen during performance unless requested beforehand.

It is understood that if any equipment or persons are in threat of damage or injury, the performance must cease until the Client has resolved the threat and full payment is still required.

The Service Provider and any assistants, will conduct themselves in a professional manner throughout.

Signed and agreed by the Service Provider

Name ____________________ Signature ____________________ Date ___/___/___


Signed and agreed by the Client

Name ____________________ Signature ____________________ Date ___/___/___


Alongside the "Booking Agreement" or "Contract" is our Terms of booking which also apply to each event booked through us.